Velux GGL to GPU
The obsolete Velux GGL roof windows.
The owner of this residence located in the Beaver Creek ski resort had screwed the skylights closed for ten years. He contacted us after getting them open again and said it was time to replace them.
The center pivoting GGL roof windows have not been manufactured for a number of years and Velux recommends replacing them with a top hinged GPU roof window. Since it is not a direct replacement, it requires some expertise to complete the project properly. In addition, tile flashing kits are not available from Velux.
The modern Velux GPU roof window replacement.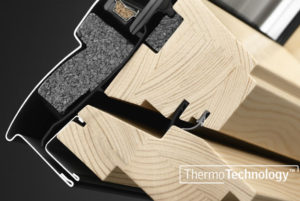 Experience a more comfortable home and lower energy bills with VELUX ThermoTechnology™. Innovative use of high performance materials in the window construction provides excellent energy efficiency, insulation and an airtight seal.
Replacing the roof windows.
One common problem when replacing the old with a newer model roof window, is the difference in the height that the skylights sit above the roof deck. This particular project had another issue—the holes cut for the original GGL models were not cut correctly.
We have the expertise and equipment to resolve these issues by combining custom flashing with Velux EDL flashing kits.
From the inside:
The GPU roof windows unlatch open/close and re-latch using the handle mounted at the bottom of the window.
You can let fresh air into your home even when you are away or sleeping, without having to worry about security or bad weather. Pull the unique top control bar once and you will allow fresh, filtered air to enter through the ventilation flap.
Product used:
Two Velux GPU UK08 roof windows with EDL flashing kits and custom metal flashing.