Blinds Give You the Ultimate in Light Control
Energy Efficiency
The addition of skylight blinds can increase the overall energy efficiency of your skylight by 45%. In the summer, on high heat/sun days, close the skylight blinds to reduce potential solar heat gain. In the winter, on cold nights, close your skylight blinds to provide an extra layer of thermal insulation to keep warm air indoors.
Improvement in energy performance:
Venetian skylight blinds – up to 34%
Light filtering skylight blinds – up to 39%
Blackout skylight blinds – up to 45%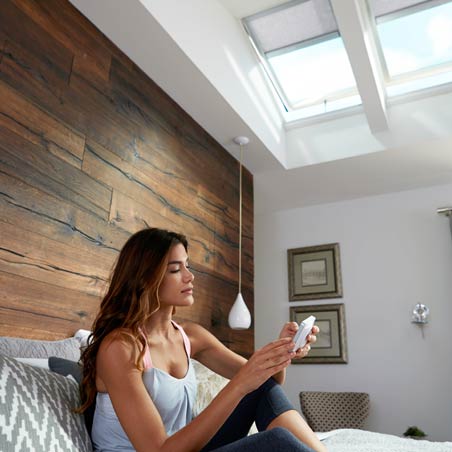 The skylight blind collection can help turn an ordinary room into something special. With over 100 colors and pattern choices available, you can design your space to reflect your personality.
Solar skylight blinds are powered by a battery, which is charged by the sun and thus does not require wiring at installation. Simply snap into place and operate with an included keypad remote. We recommend an upgrade to the Intelligent Touch Remote Control.