How do you add new skylights to your home?
It's easier than you think!
The starting point is determining which room you would like more natural light and/ or fresh-air ventilation in.
We have quite a few different options of skylights / roof windows / sun tunnels to choose from. Not to worry, our daylighting experts can help you decide the best product for your space and what your home allows!
Sunlight is a positive mood enhancer that increases the production of the hormone serotonin in the human brain. Natural light allows your body to produce vitamin D by absorbing the sun light.
There are skylight options that provide ventilation to bring fresh air into your home. These venting skylights can create a chimney effect to pull fresh air in from your windows and vent stale, humid air out. Not to mention how visually impressive skylights can be. There are options for interior trim and blinds!
Step one is a free in-home estimate.
One of our daylighting experts will come out to your home and go through a daylighting evaluation with you, including determining light levels measured in lux or foot-candles.
Good daylight comes from the sky, not from the sun directly.
We will take into account which roof slope will work best for your home and the room you're looking to brighten up. If it applies, we will also need to look in the attic. The distance from the ceiling to the roof is important.
You can expect your daylighting expert to provide you with an on-site proposal for the scope of work decided on. Determining the cost takes into effect all of the above-mentioned details.
It also depends heavily on which daylight product you have chosen. We offer a wide variety of sizes and models to choose from.
Contact Us
"*" indicates required fields
Step two is ordering and scheduling.

Blinds Give You the Ultimate in Light Control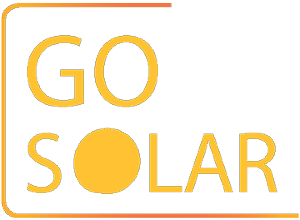 ADD SOLAR BLINDS FOR AN ADDITIONAL 30% FEDERAL TAX CREDIT ON YOUR ENTIRE INSTALLATION.
We stock many sizes and models in our warehouse. There is always a good chance we have what you're looking for in stock. If not, with a Velux warehouse in Broomfield, the ordering process is not a lengthy one at all!
We have about 20 W-2 employees to choose from to get this work done. The scheduling process is choosing the most qualified individual to get the work done in a timely manner.
Step three is the installation!
We will arrive at your home around 8am. We lay down protective plastic below the installation site and a path to the installation site from the front door. The lead technician will make a chalk outline on the ceiling where the skylight will be installed.
Once you approve that, we can get cutting! Taking great care to control dust and debris, we cut through the ceiling and the roof, frame the shaft in lumber and insulate, mount the skylight then hang unfinished sheet rock in the shaft.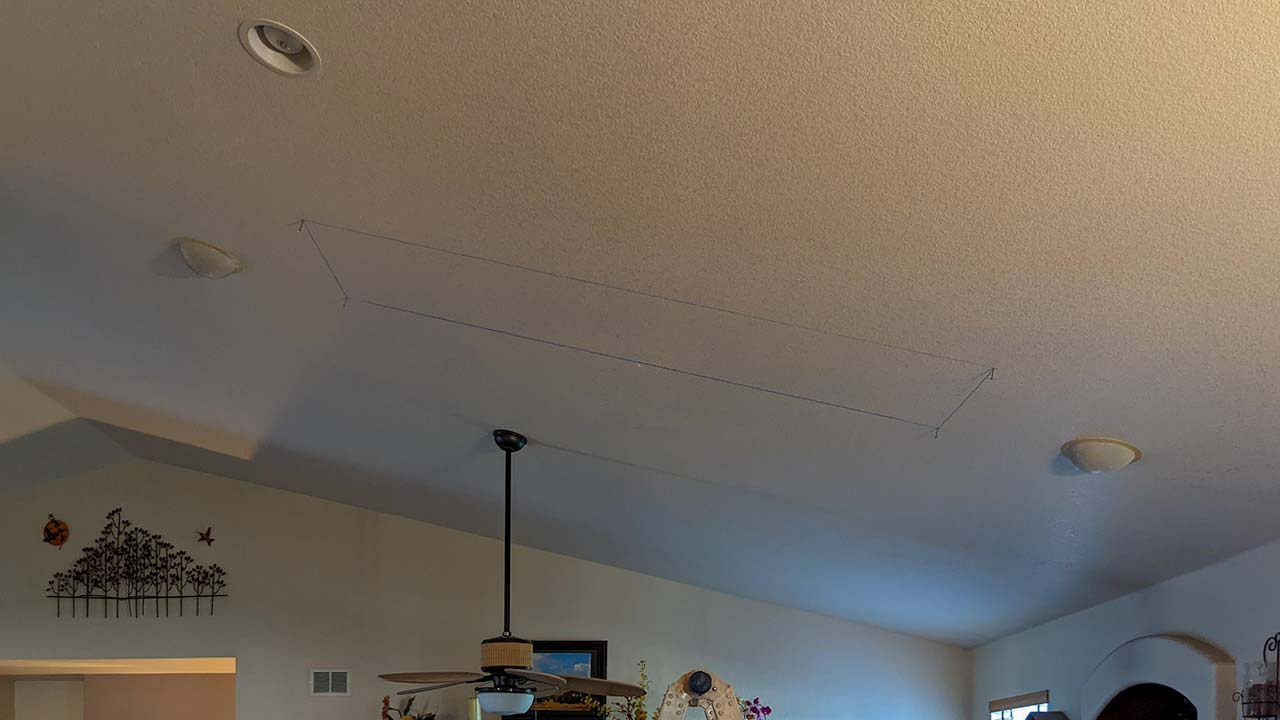 We sub-contract a five star drywall company to come in after us for the mudding and texturing of the shaft. We try to be as "turn key" as possible but you will need to hire a painter after we finish.
And now- Pure enjoyment! No leaks, No worries!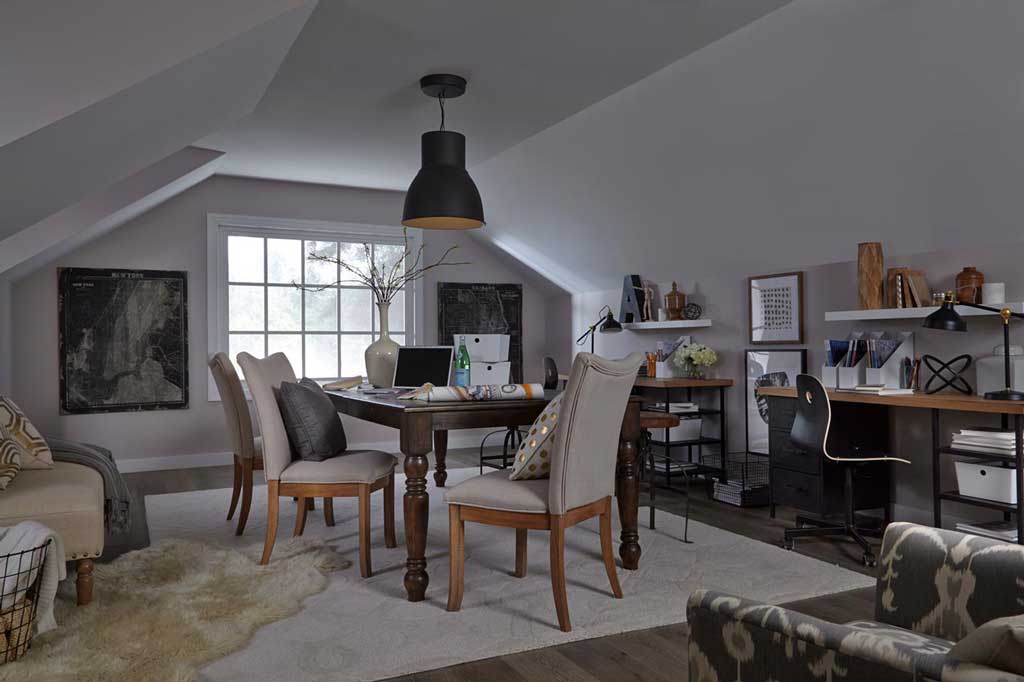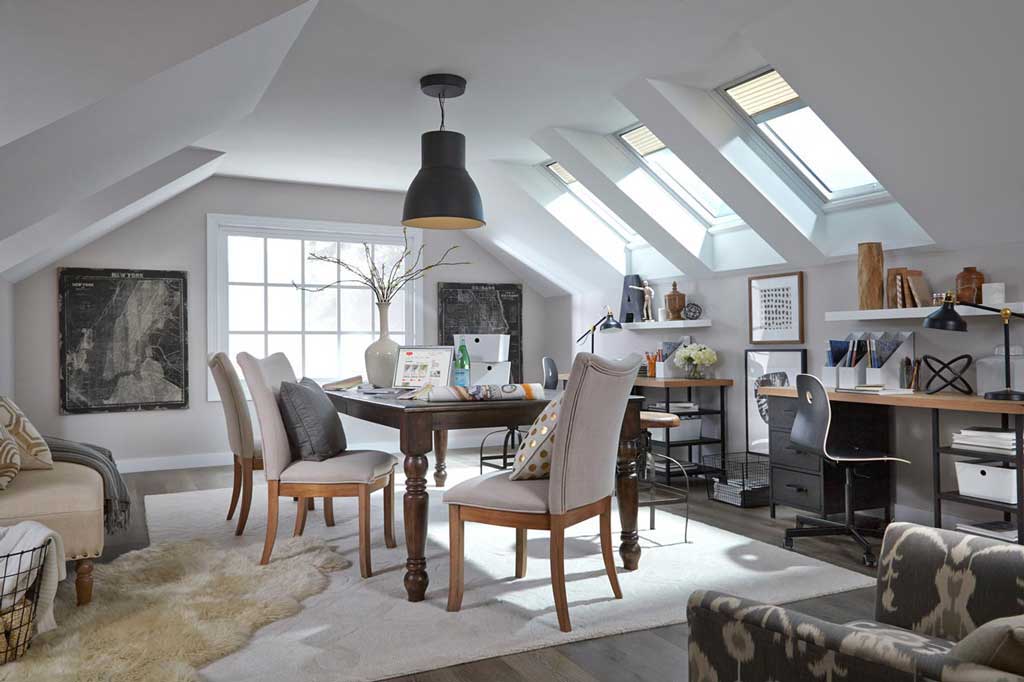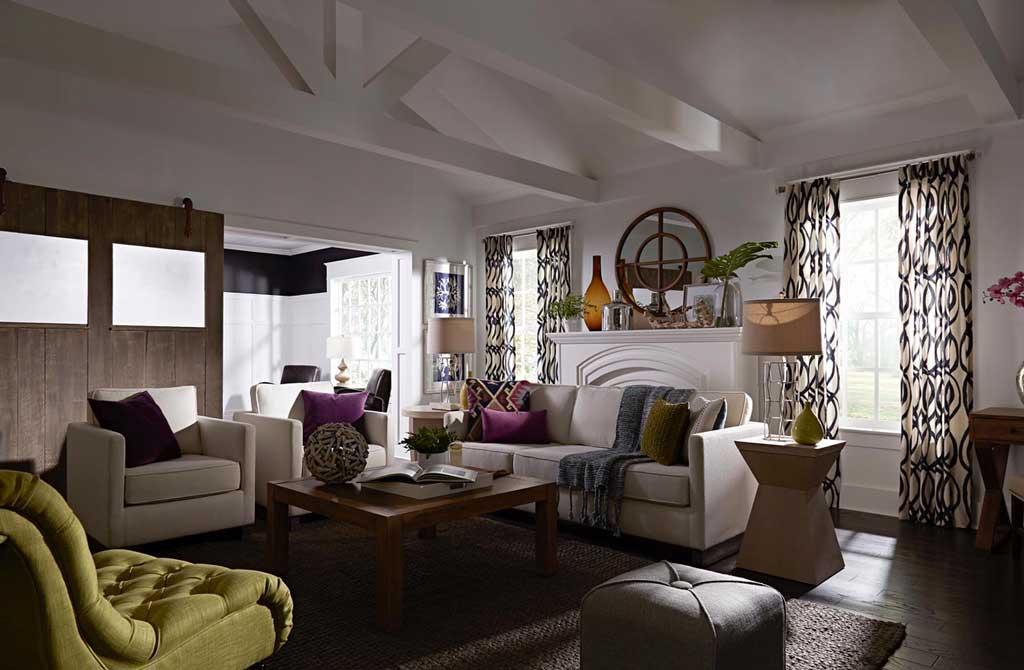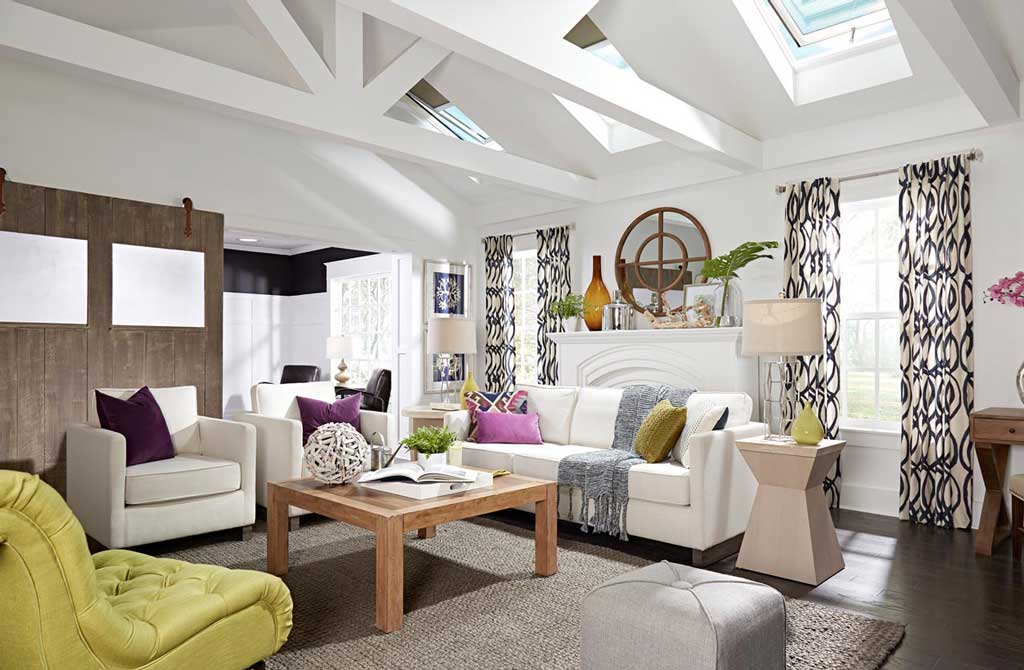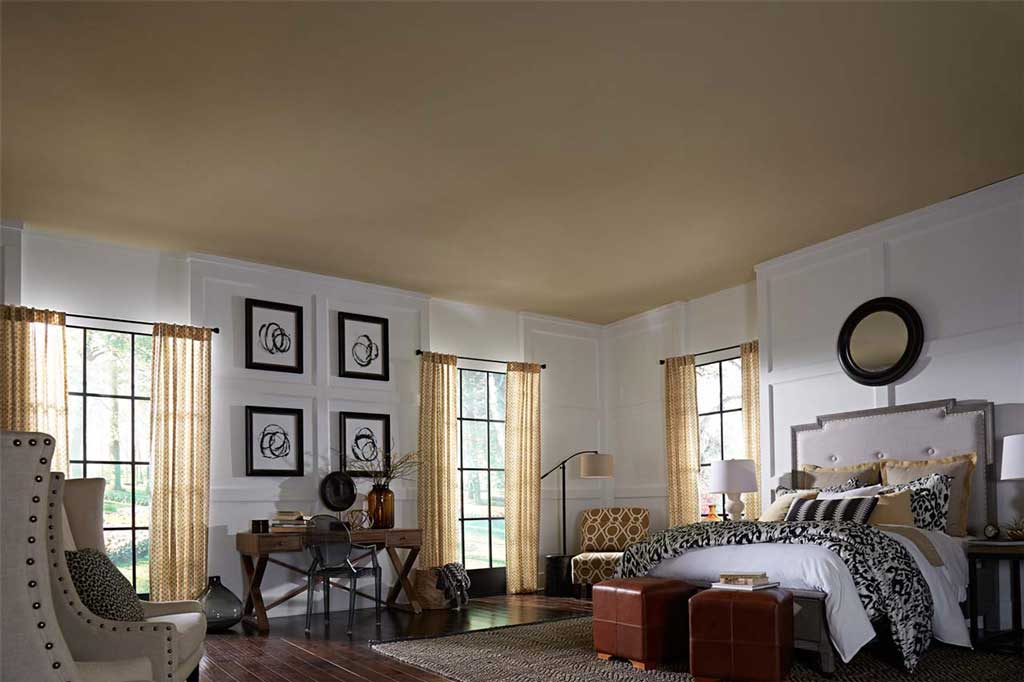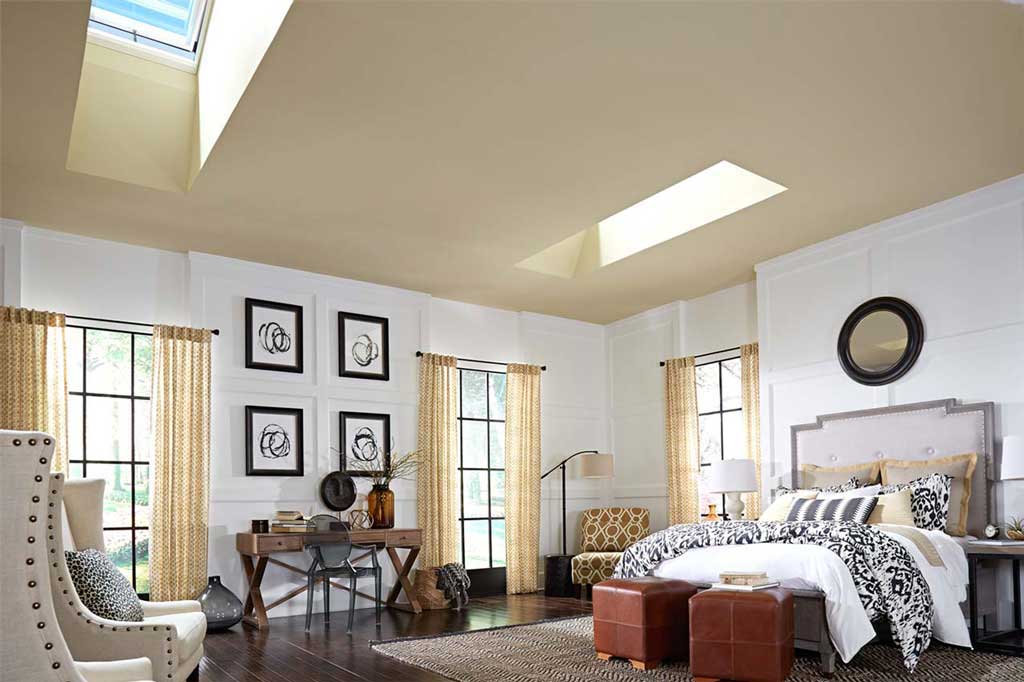 bonus-room-office-before.jpeg
bonus-room-office-after.jpeg
living-room-white-beams-green-chair-before.jpeg
living-room-white-beams-green-chair-after.jpeg
bedroom-yellow-ceiling-B.jpeg
bedroom-yellow-ceiling-A.jpeg
Check out your new skylight and how different the room feels, flooded with natural light! Your room will feel more open and brighter.
Enjoy the rainy days too!
Your new Velux skylight comes with a 10-year leak-proof warranty, 10-year glass breakage from hail warranty. A 20-year warranty on the glass and 5 years on the shades and controls.
On top of everything Velux has to offer, Skylight Specialists offers a 15-year workmanship warranty. After all, we've been in business for over 40 years now. We've truly mastered the skylight craft in that time!
Skylights & your ceiling style:
Skylights can be installed in flat or vaulted ceilings.
Your skylight specialist is the best person to evaluate your home's daylighting needs. They will locate rafters and layout the openings along with your input,
They can recommend where skylights should be installed, so you can reap maximum benefit from the natural light and fresh air they provide.
Skylight orientation and utility savings:
Before your skylight specialists get to work, they will have determined the best location for skylights in your home.
Orientation on your roof will affect how much light comes through your skylight and the role it will play in improving your home's energy efficiency.
Northern Exposure
Homes in warmer climates can reduce lighting costs by maximizing natural lighting provided by skylights installed on a roof with a northern exposure.
Southern Exposure
Studies show that homes located in cooler climates can reduce heating costs in the winter and lighting costs during warmer months with skylights installed on a roof with a southern exposure.
Homes in both climates can reduce cooling costs by utilizing natural ventilation — the chimney effect — to draw cool air in through open vertical windows and expel hot air out through open skylights during the cooler times of day.