Eligible for
30%

federal tax credit
Contact us today for a free estimate.
Adding fresh air and ventilation to a home is essential to health and well-being.
The Energy Star Solar Fresh Air Skylight is perfect for out of reach locations, especially kitchens, stairwells and bathrooms, and Skylight Specialists is here to help you choose the option that works best for you, your home and your family.
Getting a free, no obligation estimate will help you understand the value of skylights. We are not a hard sell company and we want you to be very comfortable with your decision to look into getting a skylight or replacing a problem skylight.
We are proud of our customer satisfaction record!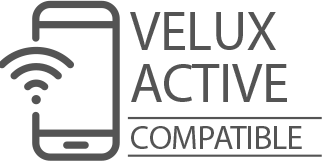 A healthier indoor climate. Automatically.
Your Velux solar or electric venting skylight and VELUX ACTIVE with NETATMO is the easy way to a healthier indoor climate. Smart sensors continuously monitor the temperature, humidity and CO2 levels in your home and open or close your skylights and blinds to create a healthier indoor climate.
Call us, we'll discuss options.
303-761-2200
Communicative, punctual, professional, clean.
Retrofit VSS M04
I've used Skylight Specialists for multiple jobs now; we'd live in a better world if other contractors held themselves to the standards that Skylight Specialists hold themselves to. Skylight Specialists were fairly priced Continue Reading
I want MORE skylights
2 VSS C06 White room darkening solar blinds
found Skylight Specialists through Home Advisor, and after receiving several phone calls and quotes, I chose them to install two skylights. I'm SO glad I did! My experience began with Julia, who was incredibly helpful Continue Reading
I couldn't be happier!
Five FCM & 0ne VCS six blinds $7500-$9999
OBSESSED with my new skylights 👏❤️ came all the way to Wyoming for us, gave me the most concise and thorough estimate EVER… the installers were AWESOME (friendly and made install super clean) and I couldn't be happier!
Velux VCM Curb Mounted

Required for roof slopes less than 14° or 3:12.
VCS skylights are perfect for replacing existing curb mounted skylights and new installations on a roof with a low pitch.
They come in seven sizes with a daylight area from 2.7-13.1 sq. ft.
Velux VSS Deck Mounted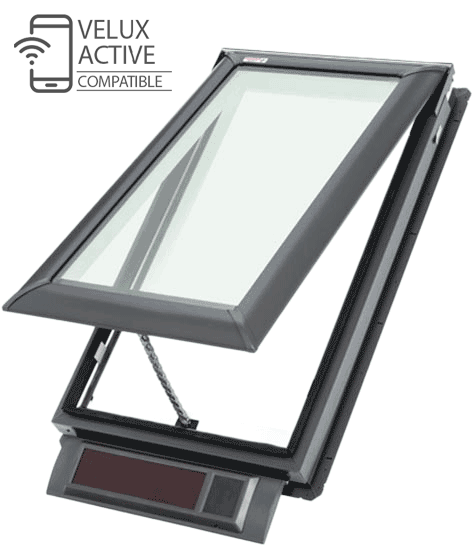 Suitable for roof slopes equal or greater than 14° or 3:12.
VSS skylights are perfect for replacing existing deck mounted skylights and new installations on a roof with an average to steep pitch.
They come in ten sizes with a daylight area from 2.3 to 10.7 sq. ft.
Benefits
Features a solar panel that captures any available daylight to recharge a highly efficient, fully concealed battery powered operator and control system.
A rain sensor is built in to close the unit in the event that inclement weather arises while you're away.
Replace a fixed or manual skylight easily because no wiring is required.
Clean, Quiet & Safe Glass—Neat® glass greatly reduces water spotting. Noises are reduced up to 25%.
The No Leak Skylight
10-year installation warranty when installed with Velux flashing, plus 20 years on glass, 10 years on product, and 5 years on shades and controls.
VELUX warrants for 10 years that skylights with Clean, Quiet and Safe glass only will not crack or break because of hail.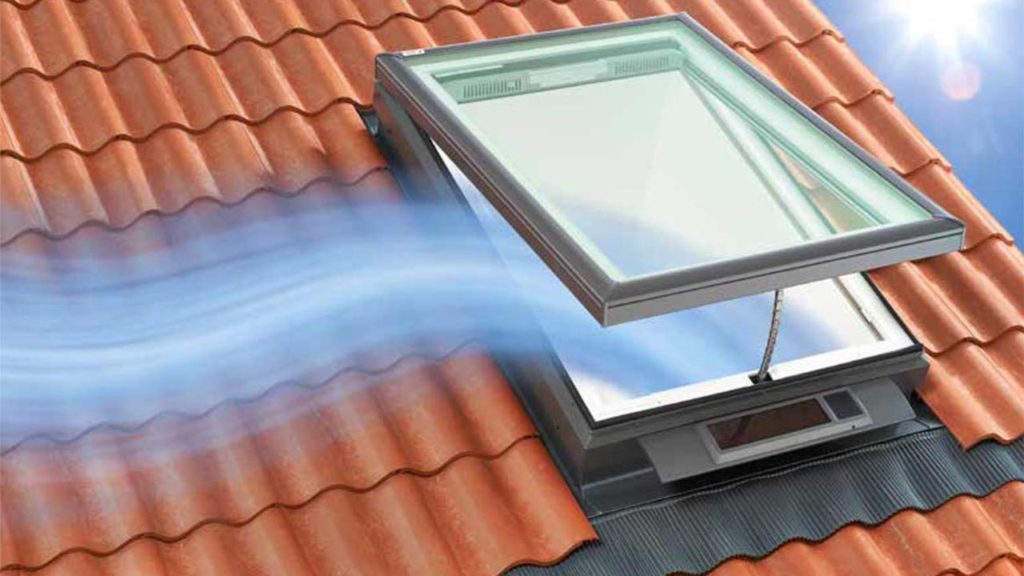 Turn the AC on later!
Use the chimney effect to draw in fresh, cool morning air and expel the hot, moist air through the open skylight.

Smart Tech Option
Bundle the skylight with a pre-installed solar shade and VELUX ACTIVE with NETATMO to add voice control, automatic control, and smart home automation.
Perfect For A Fifth Wall Transformation!
With remote control of the skylight and blinds, solar venting skylights are perfect for out of reach locations such as cathedral ceilings. No wiring is needed so installation is simplified—saving you money.
A central hallway or stairway—areas that need brightening—is also an ideal location.
Using the chimney effect and seasonal automation to optimize energy efficiency, it can significantly reduce utility bills.

Call us, we're here to help design your space!
303-761-2200