In January 2019, a potential customer called in with an interesting project. The customer had a custom glass system that was leaking and damaging the drywall in his kitchen. The home was located on the top of a mountain and was susceptible to heavy snow fall and melt. At Skylight Specialists, we deal with situations such as this all the time. It wasn't the type of job that made this particular project so interesting but the specifics.
Our customer wished to replace the entire glass system with four solar-powered venting Velux skylights.
The skylights were significantly smaller than the existing glass.
Additionally, the roof was a 12/12 metal roof.
This project posed a few interesting issues from the get-go. I knew right away that we'd have to think outside the box.
Customer satisfaction
As a senior technician at Skylight Specialists, the satisfaction of the customer is always at the top of my list. I took the time to discuss the job with my salesman and review all pictures and specs I had beforehand. When I arrived at the customer's home I spend roughly an hour speaking to him and getting a good idea of what he wanted. The only acceptable outcome is a thrilled customer and to achieve this I needed to know his expectations.
The inside of the home had exposed beams spanning the width of the kitchen. That meant the glass was mounted directly to the top of the beams with no ceiling under them. The main problem was how do I install skylights into an opening that was significantly bigger. Once the glass was removed the skylights would just fall right into the holes. This particular moment was the turning point. The magic began to happen. I decided to retrofit the exposed beams into a vaulted ceiling with custom pine trim and finished wood shafts. I knew that I was working for a man who looked at this aspect of his home as nothing but a hassle. I wanted him to look at it moving forward as one of the highlights.
Challenging, but so rewarding.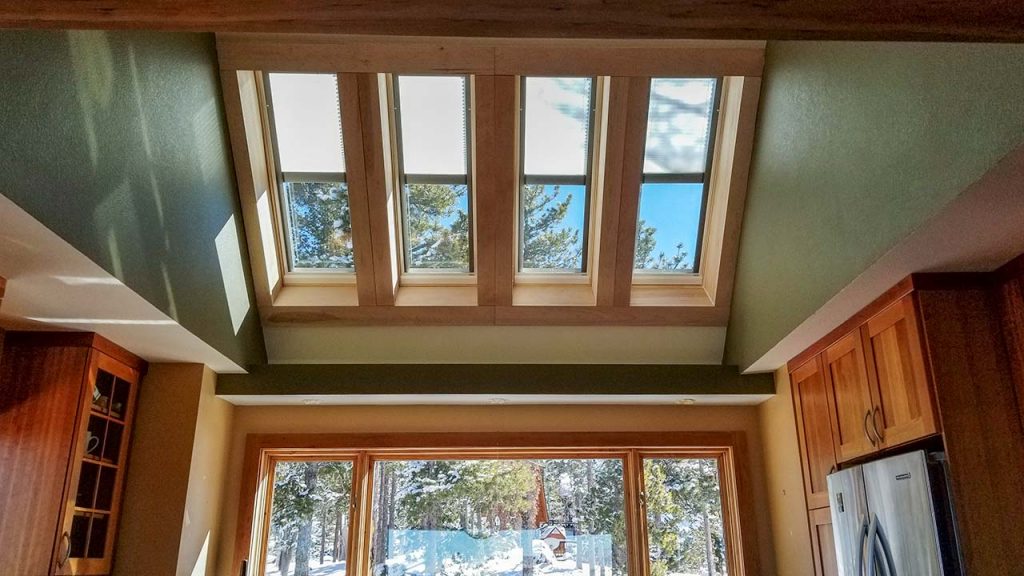 The work was difficult and challenging but so rewarding. The end product came out beautiful. I consider it one of my finest projects. More so than that, our customer was thrilled. The week long project was so fulfilling because every day we were given the opportunity to spend time with our customer and get to know him.
By the end of the project, it felt like we were working on the home of a friend. Our customer even drove down the mountain and delivered beers to our office as a thank you to the crew. I love this company because I get to approach every project in the same manner. We see our customers as family. Our company puts the satisfaction of our customers first. This is what "Legendary Customer Service" means to me.
—Stephen "Lock" Davis