Don't Wait
Certain home projects can be daunting and it's true for every home-owner. Especially when we've never experienced the issues that may force us to take those projects on. A leaking skylight is a perfect example. If you've never had to replace one before, then imagining the process to be expensive, invasive and time consuming is normal.
Well, we're happy to assure you this isn't the case. In fact, the most common types of skylight replacements are under $1,000, can be done entirely from the roof-top and are wrapped up within a day's time. The project below is the case in point. Issues dealt with by many dome skylight owners were put off for many years before we were finally called.
Don't Procrastinate…
Don't procrastinate like me! This was so easy Yes even during Covid 19
I've lived here since 1985. One of my skylights was always a tiny leak issue, but since my electric line runs close by I assumed it was going to be a bigger deal to replace. But it was noticing cracks in the one over the bathtub, while taking a bath, that made me find the business card I had gotten during last home show in Denver.
I still assumed this was going to be a major project, super heavy units.. and really expensive.. probably require short power outage.I was so wrong and should literally have done this decades ago.
Kenny & Devon did such an excellent job I took pictures. Good thing I'm not a Facebooker or I'd have posted there. Fortunately I remembered to tell them about extra shingles stashed so they made them look perfect!
Judge for yourself
August, 24, 2020
Jill R
Bailey, CO
Leaking & Cracking Dome Skylight
Two particular dome skylights in Bailey had finally given this homeowner enough trouble that she decided to give us a call. As with many dome skylights, cracking of the acrylic lenses is an inevitability just like seal failure. With constant exposure to the elements, the material won't hold up.
What should be an immediate call to a specialist is often put off and the results are never good. Water penetration will never solve itself and typically leads to more damage to other areas of your home. A quality product and correct installation are important, to say the least.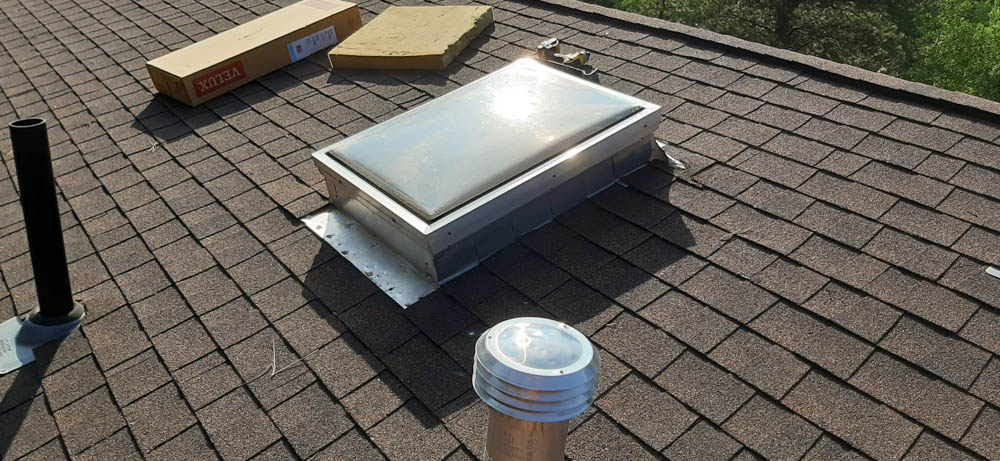 Curb-Mount Skylights & Flashing
Usually dome skylights are mounted to an existing curb, i.e, "curb mounted skylight," which is simply a skylight mounted directly to a wood frame that's secured to the roof-decking. This allows the skylight to be removed without you being forced to replace the flashing, too.
This project included some weaknesses in the weatherproofing, so new flashing was also included.But sometimes, just the skylight can be causing issues but the flashing around the curb might be just fine. This situation makes it possible to save some money by limiting the scope of work.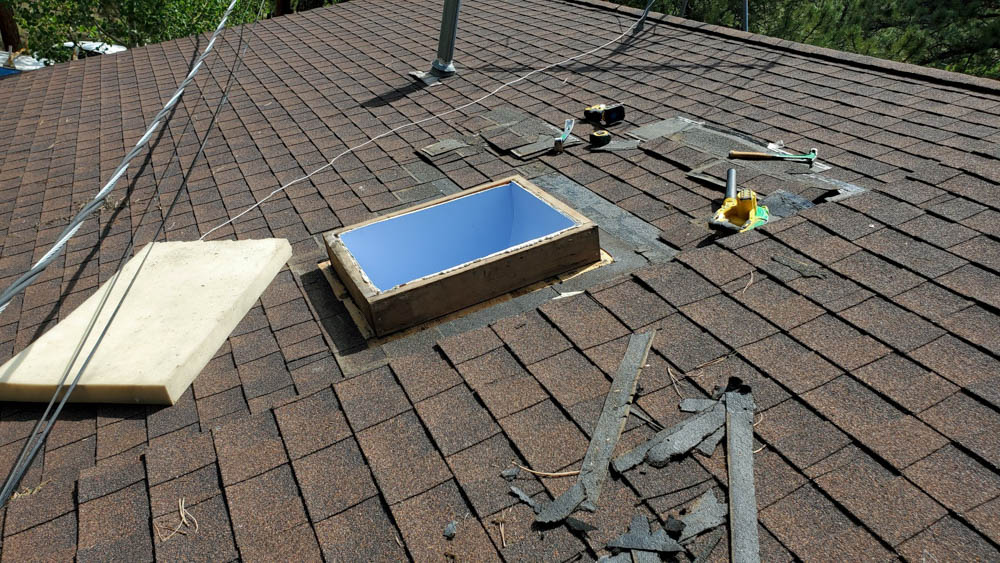 Pieces of a Puzzle
Once the existing skylight is removed and shingles have been taken out of the way (see above), we're able to install brand new ice & water seal and aluminum step-flashing around the curb.
This makes for a water-tight installation and allows VELUX and Skylight Specialists to pass along top notch warranties to our customers.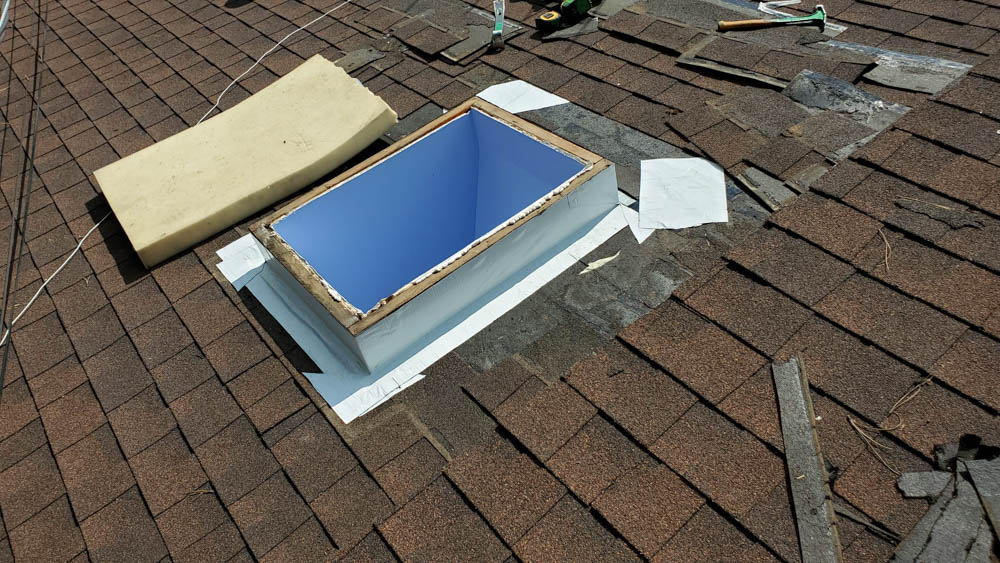 The Puzzle Assembled.
The next step is to attach the new skylights to the curb and replace the shingles.
A clear sky view. Ten year No Leak - No Worry warranty from Velux.
Five year Workmanship Warranty from Skylight Specialists, Inc.
Superior energy efficiency—Energy Star Rated.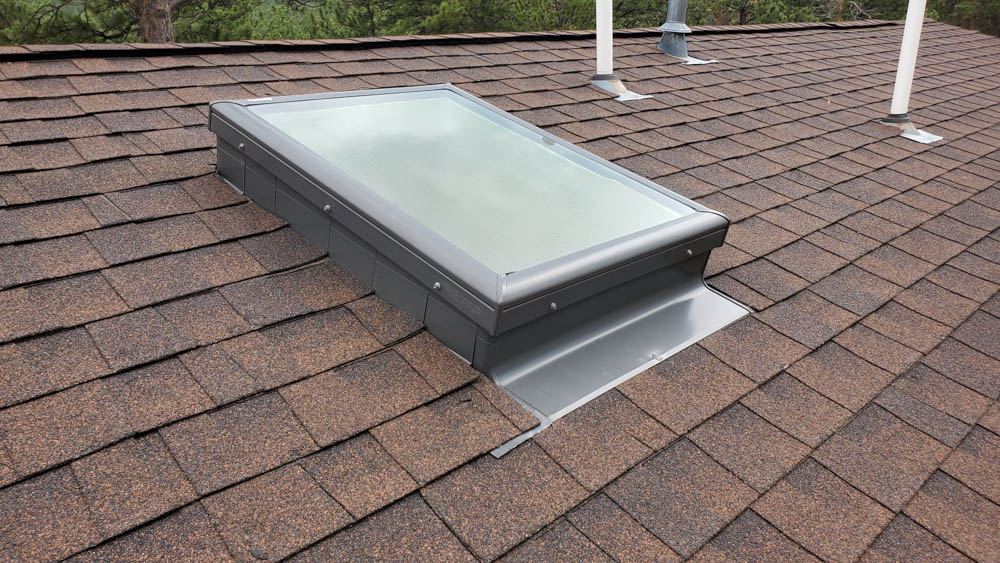 Product used: