Post and beam structure has an advantage.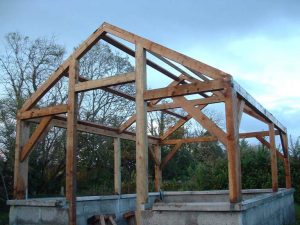 Post and beam construction is a traditional method of building with heavy timbers rather than pre-cut dimensional lumber and this building method has been used for thousands of years.
This residence, located between Lyons and Estes Park, CO, is a modern version of post and beam construction with insulated roof panels. When it comes to installing a new skylight, it has a couple of advantages:
The spacing between the rafters allows us to use a large skylight without cutting a rafter in between. In this case, a Velux FS M08 deck mounted skylight, one of the largest they make.
The insulated roof panels make the construction of the skylight shaft a simple operation.
And the main advantage—a lower cost for the consumer!
The installation:
The installation skylight begins inside by centering the skylight location between two rafters over a window in the kitchen. On the roof, the shingles are stripped and the hole is cut through the deck and roof insulation. Mounting the skylight to the deck, applying ice and water shield and installing the flashing along with the shingles completes the exterior portion of the project.
Inside, it's a simple matter of lining the shaft with trim material to create a "picture frame" shaft. As simple as it comes!
Improved daylighting.
Besides providing a sky view, light from above balances the horizontal light provided by windows to reduce shadows and glare. This makes a significant difference in the quality of the daylighting and can change the entire feel of the space.