Glass Skylights on a Spanish Tile Roof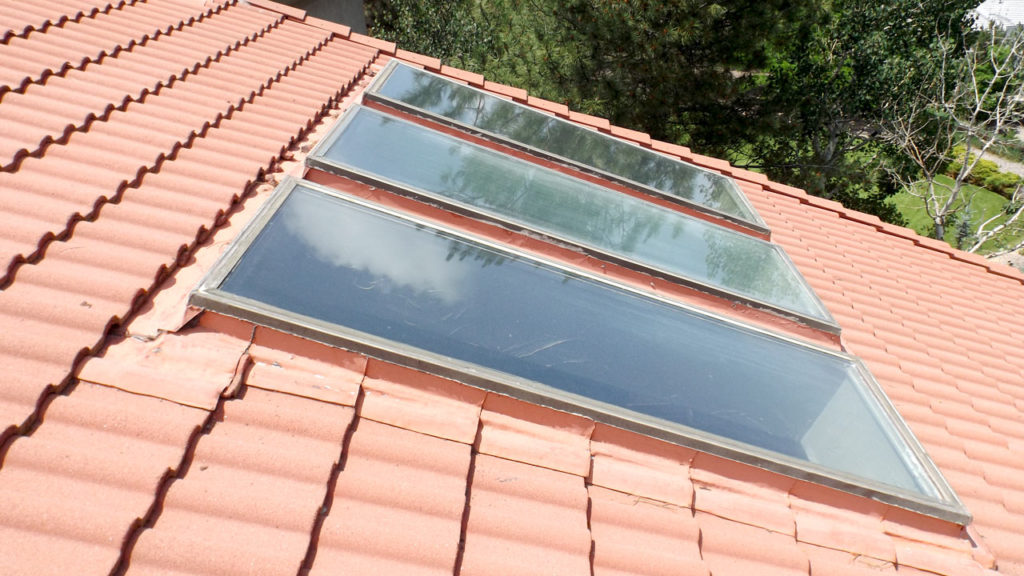 The skylights on this home were at the end of their lifespan. The unique challenge of this project was being able to install custom sized glass skylights that could be weatherproofed to a Spanish tile roof.
Fogged Glass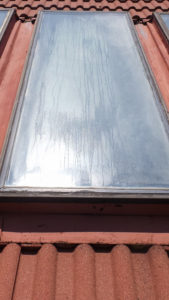 All three of the skylights in the cluster had failed glass seals. The insulated glass units had lost their seal, allowing water to penetrate in-between the two layers of glass, causing unsightly condensation and a loss of efficiency.
The most obvious solution would have been to replace the glass in the skylights. However, the existing skylights could not be easily disassembled to replace the glass. We decided with the homeowners to replace the skylights and re-flash the roofing.
MAGS BAR Glazing System
The solution to the homeowners problem was to create custom sized skylights that fit on the existing curbs without replacing any Spanish tiles on the roof. Our exclusive MAGS BAR system allowed us to do exactly that.
The pressure caps (what holds the glass down) are easily removed and re-applied in the event the glass fails and needs to be replaced for any reason.
Another benefit of the MAGS BAR system is it's designed to fit the inside of the opening. Giving it a sleek and sophisticated appearance on the roof and on the interior. No interior framing/top edge of drywall /trim or other ugly components are visible for a high end finish.

Call us, we'll discuss options.
Gallery