Our Sun Tunnel is leaking.
When the owners of this residence in the Valverde neighborhood of Denver contacted us about their leaking Sun Tunnel, we were a little surprised. Properly installed, these skylights seldom have issues with leaks. We were happy to help, but we did explain that a replacement would be more cost effective than the labor costs of repairs.
The image above shows that the Sun Tunnel was not installed properly in the first place and attempts had been made to "cure" the problem using tar, seldom a good solution.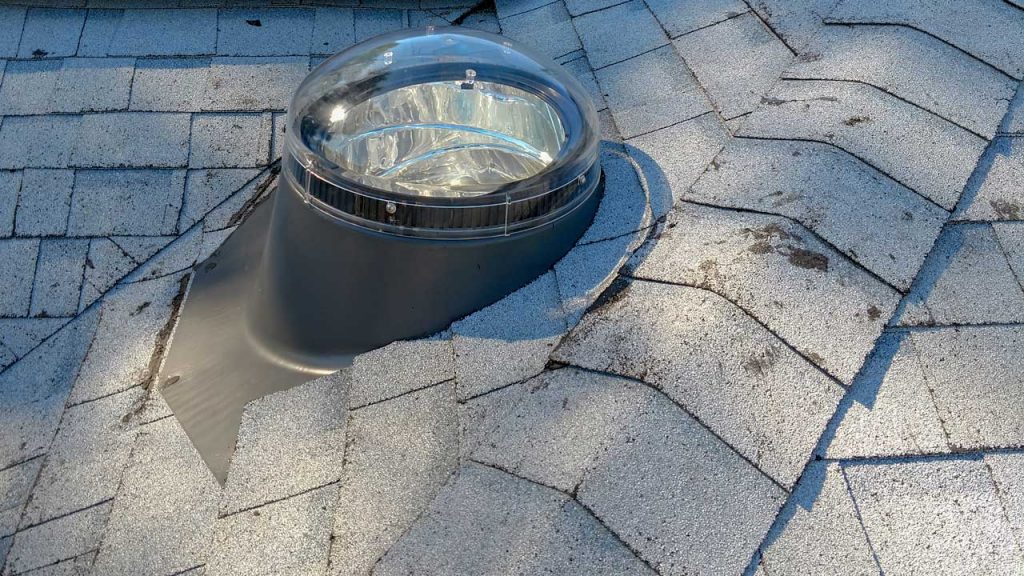 The image above shows the new Sun Tunnel installed properly. The shingles overlap the flashing completely on the top and sides and the attaching screws have been capped with Dow Corning structural sealant.
We guarantee our installations to be leak-proof for five years!
The new ceiling trim ring.
Earlier this year the new Velux ceiling trim ring, a ring of clear polycarbonate, was introduced. This ring gives a better spread of light throughout the room, letting you experience the changing light of day like never before.
The new versus the old.
Besides the improved light dispersion, the new ceiling trim ring needs no paint to match ceiling colors—a minor benefit, but a nice touch. Along with the new ring, several new diffusion films were also introduced, including a new Neutral Light diffuser designed to mimic incandescent lighting.
A closer look.
Even with a closer view, the new ring is still difficult to see!