Replacement Parts Are Available Through Velux
Velux has recently changed their parts catalog, and no longer offers parts for all model years.
Use the Velux Find a Dealer link to find out who can supply you replacement parts in your area. We are a certified 5 Star Dealer for Velux, and the repair techs for their products in the Colorado area.
You can contact us online or by calling: 303-761-2200.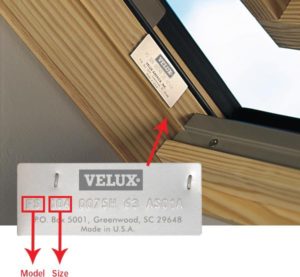 It is helpful if you have a serial number, model number or the Velterm number. They are usually located on a plaque mounted in the skylight shaft in one of the bottom corners near the skylight. The Velterm can also be found printed between the panes of glass in the skylight, usually in the top right corner. We can always help you find this information if you cannot find these on your own as well. You can also check the links below for more helpful information from Velux.
We always give free estimates as well, and we will work with you to get the proper replacement parts and supplies, to help you avoid mistakes.
Parts are now special order through Velux, and have an added several week processing timeline. Prices have also increased depending on the model year.
You can read more on a typical Velux replacement parts and cladding job with our case study here.
See Also