Velux Blinds Installation and Custom Colors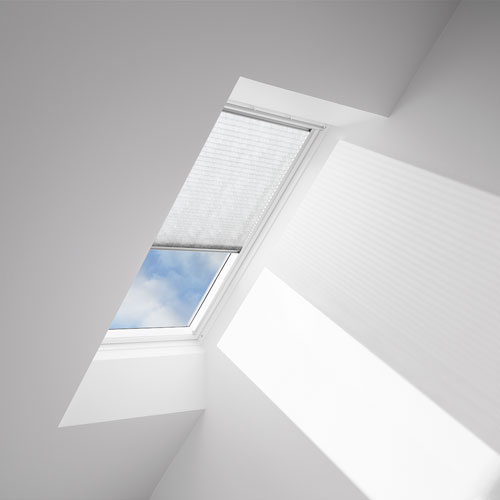 We recently had an older couple looking for blinds to add to their existing skylights in their kitchen. Almost all Velux skylights allow for blinds to be installed at a later date, and theirs fell in this category. Their kitchen and living room were getting a little too bright during the day, and they wanted to soften the light up. After seeing all the options for colors, they chose the sunny blue to add a nice color accent to their home.
Blind Benefits
Blinds are a great accessory for your skylight, and offer a couple of functions. They increase your privacy, allowing you to block the view when you want. But they also help with solar heat gain during the blazing summer months in Colorado. When closed they bounce infrared and solar heat back out of your house, helping keep your house cool and comfortable.
The light filtering blinds also disperse the light, scattering it throughout the room, giving an even, soft lighting. This is nice during morning and midday, when the sun is direct, hot and intense.
Velux blinds are available in many colors, with colors from the entire color wheel and even some patterns! While most homeowners choose a soft, off white color, custom colors can be ordered to bring in a splash of contrast color.