How to modernize an oversized, outdated dome skylight.
The owners of this townhome in the Yosemite Village community contacted us to replace their old dome skylights with an upgrade. Part of a 4-unit building, each unit has three skylights—one large 2 1/2′ x 8′ over the stairwell and two 2′ x 2′ skylights above the master bathroom.
The size of the large skylight makes it difficult to replace with an upgrade. However, with a little outside the box thinking, we came up with an excellent solution—reframe the opening and replace the old dome with two Velux solar venting skylights with solar powered blinds. This gives the homeowner much more flexibility than a fixed skylight.
Building the new curbs.
The Velux VCS or Solar Venting Skylight can be installed on many different applications. This is a flat roof so the skylights were placed on a peak with a gutter between them to make sure there is a water tight seal with no place for water to accumulate and allows water to sheet off the skylight to keep a clean appearance.
The new Velux VCS Solar Venting Skylights.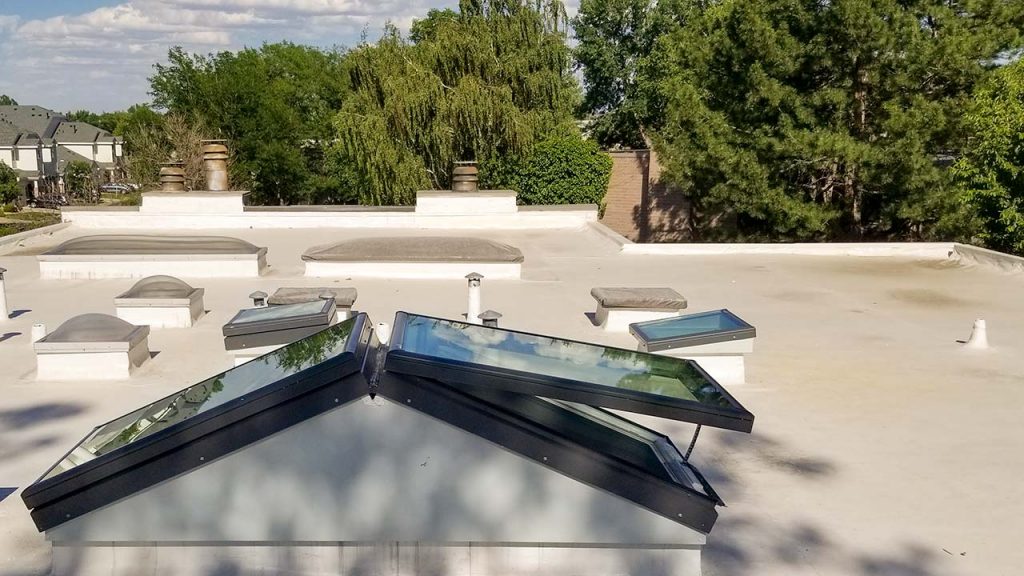 This is a great option for taking an older long domed skylight and making it more functional in the home. Older domed skylights can be unsightly and inefficient.
Reaping the benefits.
Better light and more energy efficient.
Now the home has better natural light, is more energy efficient, and allows the chimney effect to draw fresh air up to the second floor and expel the stale, humid air out of the home. In this application, solar powered blinds were also installed. This allows for the blinds to be operated remotely without having to run power to the skylight and blinds. This keeps the installation much cleaner and more cost effective. In addition, this allows the homeowner to control the amount of light that enters the home.
Smart controls with Velux Active.
The owners also opted to purchase the Velux Active system for the ultimate in smart home controls.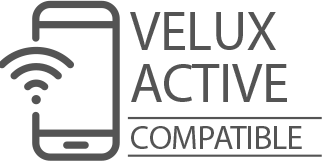 This sensor-based control system monitors the climate in your home and uses local weather data to automatically adjust the ventilation of your skylights and position of your blinds accordingly.
Another great job by our expert installers taking an idea and making it reality.