VELUX VCS (Venting Curb Solar) Skylight.
VELUX Cladding Kit.
Roof Replacement Spurs Significant Skylight Upgrade.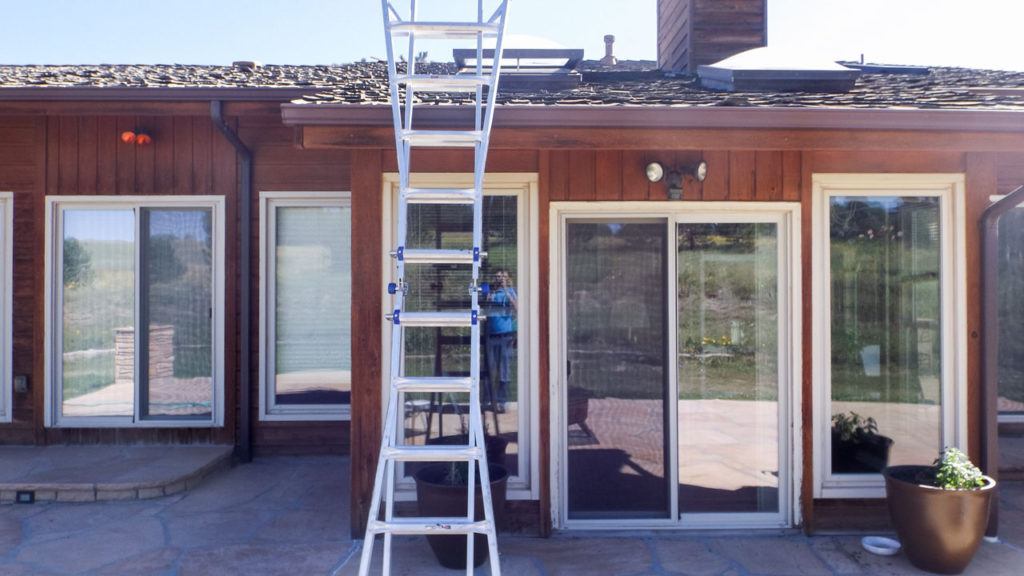 The owners of this residence built in 1985 in Franktown's Bannockburn subdivision made a wise choice. When their roof required replacement, they chose to update their seven skylights along with it.
Five of their older Velux skylights were replaced.
Three deck mount replacements:
We replaced three of the older skylights with VELUX FS C06 skylights. They are what we call a "standard size" about two feet by four feet.
Two curb mount replacements:
The two remaining square, acrylic domes were replaced with two VELUX VCS 3030 solar operated venting skylights.
A huge improvement!
Two of the skylights also had solar powered single pleated light filtering blinds installed.
Introduced in 2015, the latest blinds from Velux offer style and efficiency. Light filtering blinds are useful in reducing glare on TV or computer screens, for instance.
By programming the skylights and blinds to open during the cool parts of the day and closing when it warms up, cooling costs are reduced. Utility bills go down! Close the blinds on cold nights to help retain heat.
Two of the skylights had cladding replaced.

Two of the skylights were in decent shape except for hail damaged cladding. We were able to replace the cladding and the skylights should provide years of service.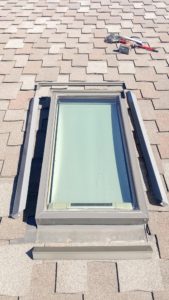 This a rather simple operation, but not all older Velux models have kits available. We have also found that pricing can vary widely.
Peace of Mind!
Skylight Specialists, Inc. warrants our workmanship for five years.
Ten year No Leak Warranty from Velux, when installed with a Velux flashing kit.
Energy Star rated. Energy savings can pay for the skylight in a few years.
Rain sensor closes the skylight automatically.
What Is a Deck Mounted Skylight?
A deck mount skylight—unlike a curb mount skylight—is simply attached directly to the roof deck. Suitable for roof slopes equal or greater than 14° or 3:12
The skylight is then flashed (sealed) to become part of the roof.
A VELUX skylight installed with a VELUX flashing kit is guaranteed leak-free for 10 years.