Is a Triangular Skylight an Unusual Skylight?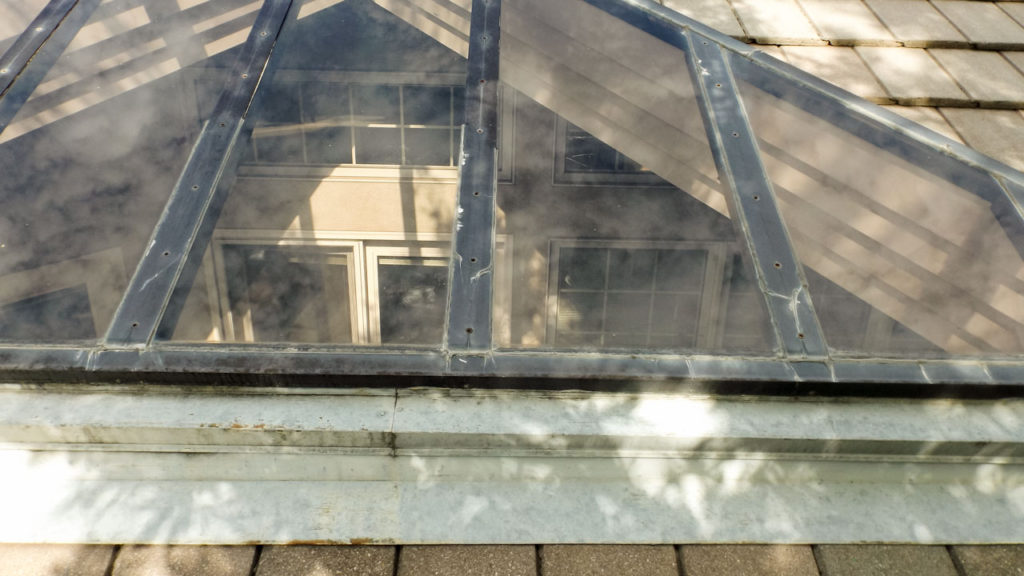 An unusual skylight is sometimes considered difficult to deal with because of it being an unusual shape. However, we do not consider this unusual at all. If you can imagine a shape, we can construct it.
In addition to the "unusual" skylight, there were several acrylic dome skylights that had issues. These were easily replaced with Velux FCM curb mounted skylights. 
Custom Skylights are easy to build (for us).
Most unusual skylight shapes are capable of being built utilizing our MAGS BAR Glazing System.
We do have a few requirements, unusual skylight shape or not:
There needs to be a structure under our bar that is able to support the live and dead loads.
The structure is typically specified as being a 3″ wide support around the perimeter of the system.
The opening needs to be divided to keep glass sections 50 square feet or smaller.
Given these parameters, there are no limits to what we can glaze. And, by the way, we can install any type of glazing in our system— glass, polycarbonate, fiberglass, etc.
A Cost Effective Solution for an "Unusual" Skylight.
We removed the old custom built skylight and flashing and rebuilt a new skylight on site using our MAGS BAR Glazing System.
It is worth noting that the old system wasn't originally sized properly so the previous contractor built a curb on top of another curb to make it fit. The two curbs were weather proofed with flashing. However, the flashing did not weather well which caused leaks and other issues.
We fit our skylight to the original curb eliminating the second curb.
This simplifies the look and performance of the skylight.
We then constructed the skylight onsite to ensure a true custom built "unusual" skylight that fit the curb exactly.
This required us to cover this job with plywood and plastic while we waited for the custom ordered trapezoid and triangular glass to show up.
Product Used:
MAGS BAR Glazing System, Class 1 Anodized finish, thermally broken aluminum base frame.

Low E High Performance Tinted Glazing

Ice & Water Guard

V

elux FCM Skylights
Before:
During:
Ice & Water Guard is an important part of most of our skylight installations and many of our skylight repairs.
It is a tough, pliable sheet membrane designed to prevent moisture penetration and interior damage from water back up caused by roof ice dam buildup during the winter season or by wind driven rain.
Finished: