MAGS Bar steps up when conventional skylights won't work.
We originally planned to install four Velux skylights for this project, but a closer inspection of the desired location revealed roof construction that ruled that plan out. Not a problem for our MAGS Bar system.
It starts with stripping the shingles and underlayment then cutting the two openings in the exposed roof deck. The MAGS Bar framework is measured, cut and installed. Next comes a critical step—using an ice and water shield and custom fabricated aluminum flashing to ensure the skylights remain weatherproof for decades to come.
With the weatherproofing completed, the shingles are replaced, precise glass measurements are made and the glass is ordered. When the glass arrives, it is clamped to the base with pressure bars and a beauty cap adds additional protection from the elements and give the skylight a sleek and modern appearance.
One of the aspects of skylights that isn't talked about a lot is the play of the light reflecting on a wall or floor. It changes by the minute, hour, day, and season and can be quite dramatic.
The reflection serves a more practical purpose, also. It bounces the daylight throughout the space—even into corners.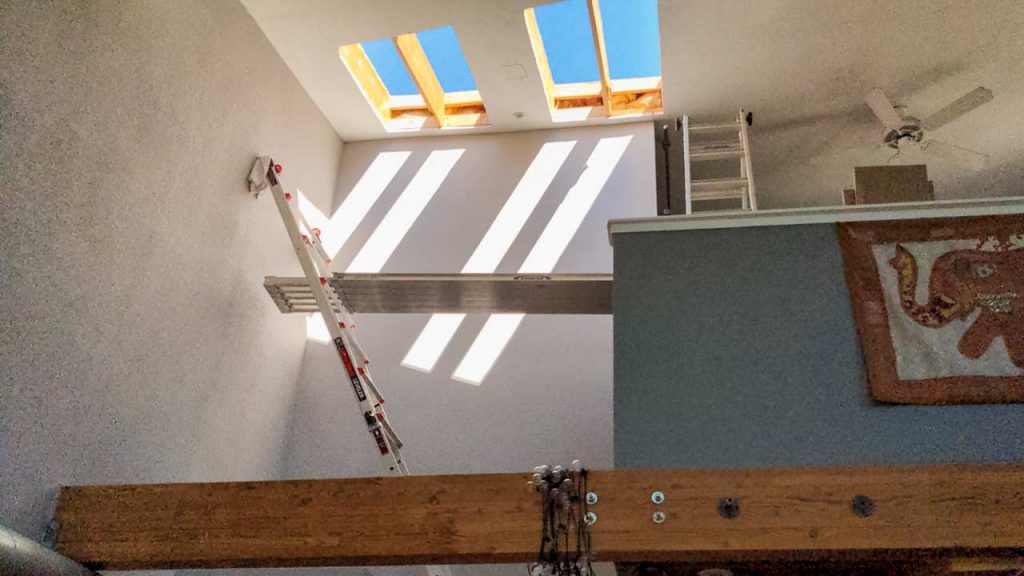 MAGS Bar a Multiple Application Glazing System by Skylight Specialists, Inc.
Solarban 70XL low E3 tempered over clear heat strengthened laminated glass.