Velux Curb Mount Skylights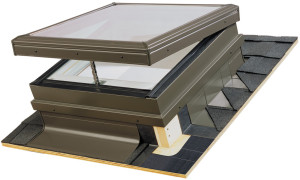 FCM stands for Fixed Curb Mount Skylight. These skylights are excellent quality and an excellent product to use to replace the acrylic domed skylights. The heavy metal cladding (and glass) resists hail stones. They are available in standard and custom sizes. We also offer curb extensions if the stock size doesn't fit.
Velux also offers VCMs, or Venting Curb Mount skylights, so you can upgrade your old sealed dome and get fresh air as well!