I don't have any issues, I want to upgrade to something newer.
This customer, with a residence at the foot of South Table Mountain in Golden, CO, first contacted us in July, 2017. She stated that she didn't have any problems with her skylights but she was interested in an upgrade to something newer.
Built in 1991, the existing skylights were at the end of their service life and the solution we provided was certainly an upgrade!
The upgrade: a Velux FS Skylight with solar-powered blinds.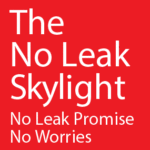 The FS fixed skylight stain grade was chosen to match the decor of the bathroom. The two skylights were set using EKL combi-flashing which qualifies for the ten year No Leak warranty.
The solar-powered, double pleated, room darkening blind comes with a touch remote control to adjust blind positioning during different times of the day for optimal energy efficiency.
The Velux skylight comes with Neat® glass. The sophisticated technology used to create this glass provides remarkable benefits indeed. It's quieter, stays clean longer, and passes most of the light with very little of the heat.
Beautiful results!