Venting skylight motor failure spurs replacement.
Our first contact with this customer was over twenty years ago. Since that time we have replaced skylights and done other related jobs, including replacing motors on the electric venting skylights that we had installed. Instead of repairing the motor we will be replacing the skylight itself with a new generation Velux solar powered skylight.
Highly recommend
We had 4 Velux skylights installed by Skylight Specialists in the early 2000's. They are always very professional, responsive, and personable in taking care of any issues which arise. Highly recommend!
March, 22, 2022
Laurel Starr
Golden, CO
The home has a number of solar panels installed on the roof. The skylight that we will be replacing is virtually surrounded by the panels and cannot be worked on without their removal.
The solar panels are being removed for us by another company and will be reinstalled after our work is done
Replacing the skylight:
With the solar panels removed, the shingles surrounding the old skylight are stripped, the existing skylight is removed and the replacement, a Velux VSS C06 solar powered venting skylight is attached to the roof deck.
Ice and water shield, a sticky underlayment, is applied around the skylight and an engineered EDL flashing kit is installed along with the original shingles. Clean up completes the installation.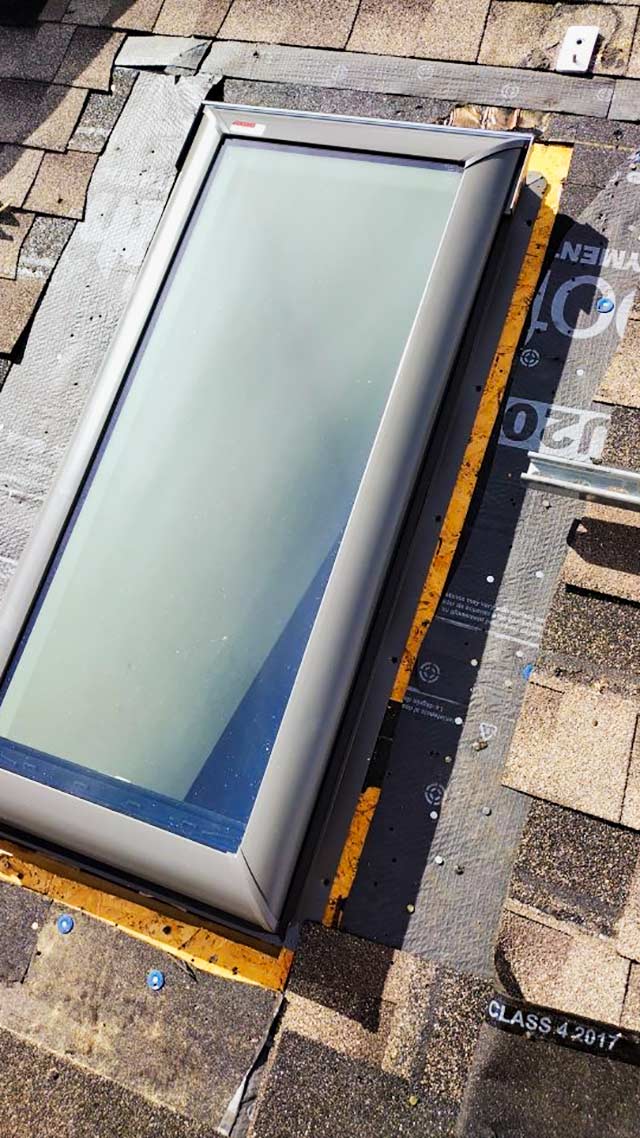 The Skylight:
One VELUX VSS C06 Deck Mount Skylight.
Custom fabricated aluminum flashing.
Approx. 2 foot x 4 foot.
Standard Features:
Velux ten year warranty on product including glass breakage by hail up to 2" diameter.
Pre-finished white frame.