skydoor®
A hinged electric opening skylight suitable for ventilation and regular access with concealed opening mechanism when closed and proximity safety sensors fitted as standard.
The Project:
New luxury condos are being built on the site of a former tire dealer just five blocks from Boulder's Pearl Street pedestrian mall. Construction is nearing completion, and our portion of the project is underway.
We will be building curbs and installing a Glazing Vision skydoor in tandem with a Velux custom fixed skylight. The skydoor, 3 feet by 10 feet, will provide access to a rooftop terrace.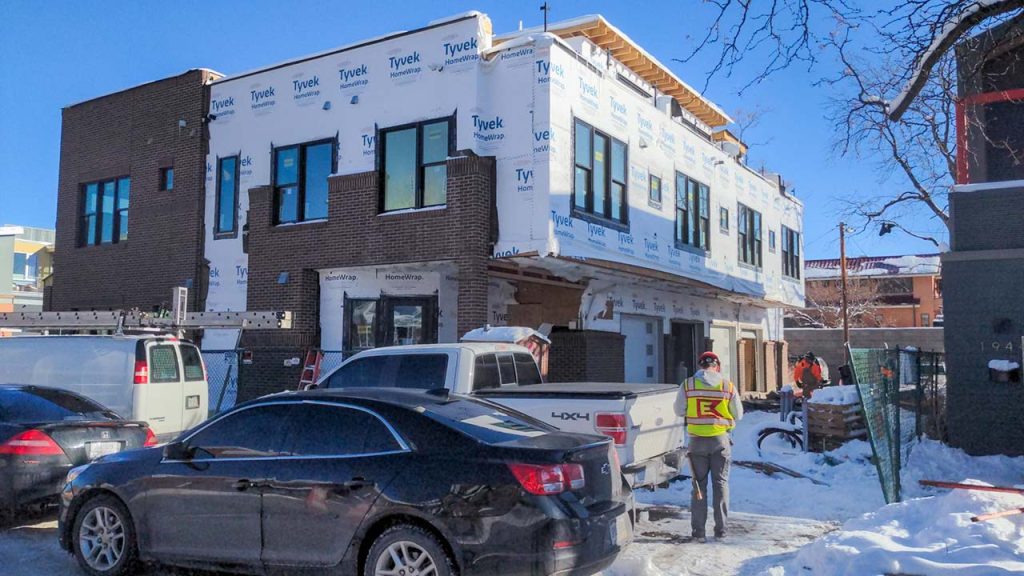 The crew constructs the two curbs and then awaits the arrival of the skydoor. The next step will involve a fair amount of crane work. The crate is lifted from the truck to the ground and the guys strip it down to the pallet.
Now the pallet is lifted to the roof and the straps are connected to the skydoor itself and it is then lifted into position on top of the curb. Once it is attached, roofers will complete the flashing work. Electrical work and installation of the Velux FCM will complete the project.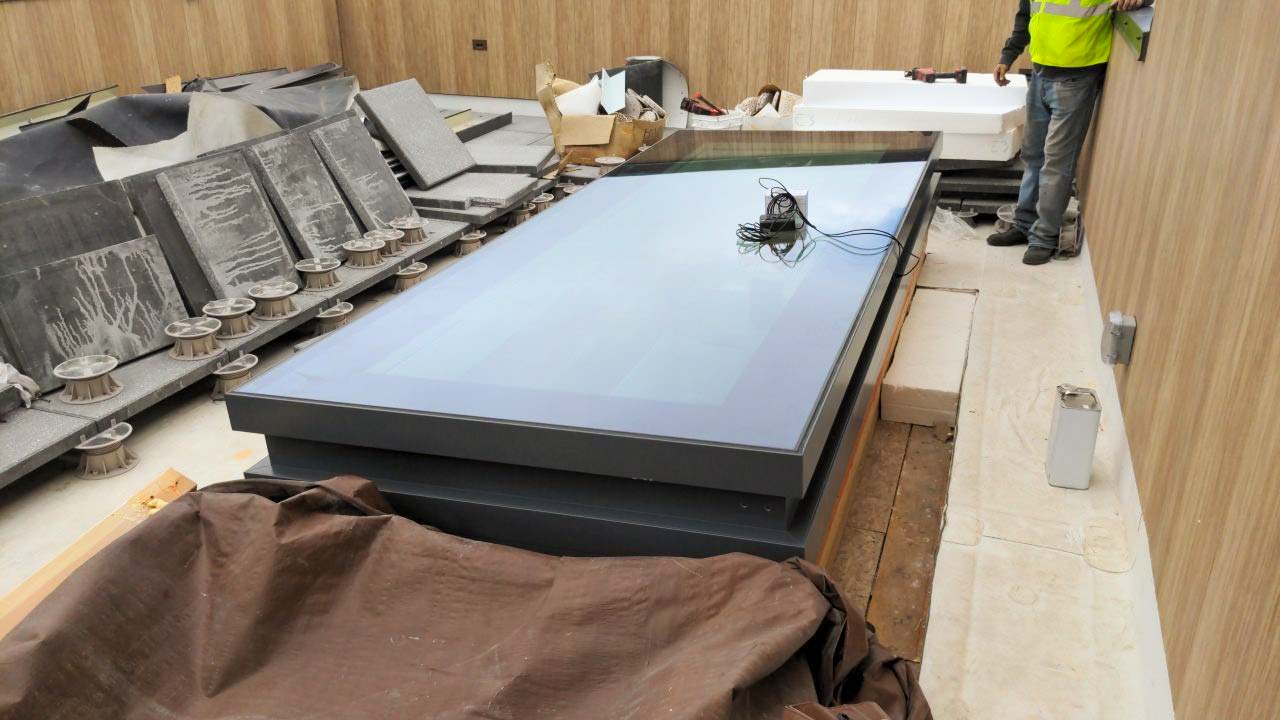 skydoor®
Skydoor is our most popular hinged access rooflight and is designed for
day to day access to your roof space, ideal for terrace areas on flat roofs.
Operated by our intelligent LED control switch, the unit will respond to
both one touch and press and hold requests.
The Skydoor opens out to an impressive 87° at full travel by means of
synchronized dual actuators but you can also stop the unit at any point
mid travel which means it can be used as a natural ventilation roof light
too.
Safety features include current override sensors, anti slip threshold tread
plate and also a three point thru beam proximity detector system (left)
which will sense any movement beneath the opening section when
in motion and prevent the lid from closing until the switch is engaged
again.
The Qualicoat approved polyester powder coated framework is supplied
dual color as standard and is thermally broken using a combination of
39mm polyamide breaks and closed cell PIR insulation
Product Used:
Double Glazed Skydoor Solo
Dimensions
51-3/4″ (span) x 135-3/4″ (width)
outside flashed curb dimensions.
This will result in an internal clear opening of 36″ x 120″ .
GLASS SPECIFICATION:
1-5/16″ double glazed unit (silicone sealed) comprising of 5/16″ HST
Tempered Solar Control (LT70) 35/64″ Argon, Black warm edge spacer, silicone sealed 3/16″ – 060 – 3/16″ HST Tempered PVB Laminated
QUALICOAT APPROVED FRAME COLOR
RAL9010 Pure White Matte finish inner.
RAL7015 Slate Grey Matte finish outer.

The Skylight:
One VELUX FCM 3751 Curb Mount Skylight.
Custom fabricated aluminum flashing.
Approx. 3 foot x 4 foot.
Standard Features:
Velux ten year warranty on product including glass breakage by hail up to 2″ diameter.
Pre-finished white frame.