Ridge Skylight Design
Frequently we will have an owner or a contractor ask us for a quote to create a glazed system (skylight) for a project. We typically ask for plans or details. But many times someone in the design process has a concept of what they want built and they often will have a picture that they use to convey their ideas. In this case the contractor had plans and specifications for a ridge skylight but the owner was not happy with the type of quotes the contractor was receiving.
I Want This Design…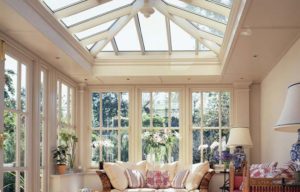 The contractor contacted us and explained his situation and asked if we could help solve his problem. The picture that the client possessed showed a warm and inviting skylight in a living room. The quotes the contractor was receiving was for skylights that had an interior aluminum structure. The problem with aluminum on the interior of a residential home is that it looks cold and unnatural instead of that warm inviting feel you get from wood. However, the contractor knew that wood on the exterior of a home, especially for a skylight, does not last long in the elements.

Call us, we'll discuss options.
Wood Interior – Aluminum Exterior
We were able to design and build in our shop a wood supporting structure for the extended ridge or hipped ridge skylight design that was glazed on the exterior with our MAGS BAR Glazing System. This system, which is aluminum, is designed to withstand the harsh sun and weather in Colorado and other parts of the country, too.
Products Used:
MAGS BAR Glazing System, Class 1 black anodized finish with thermally broken base frame.
Bronze tempered Solar Ban 60 over heat strengthened laminated Glass.
Pre-engineered Micro Lam beams.
Gallery