SIMPLE WAYS TO MAKE THE SPACE FRESH AND WELCOMING.
If there's one room in the house that cries out for fresh air, it's the kitchen. And if there's a second room that can benefit from Mother Nature's sweet breath, it's the bathroom.
When humidity and odors build up in a room, a host of disagreeable results arises, from mold and mildew to dank, unpleasant air.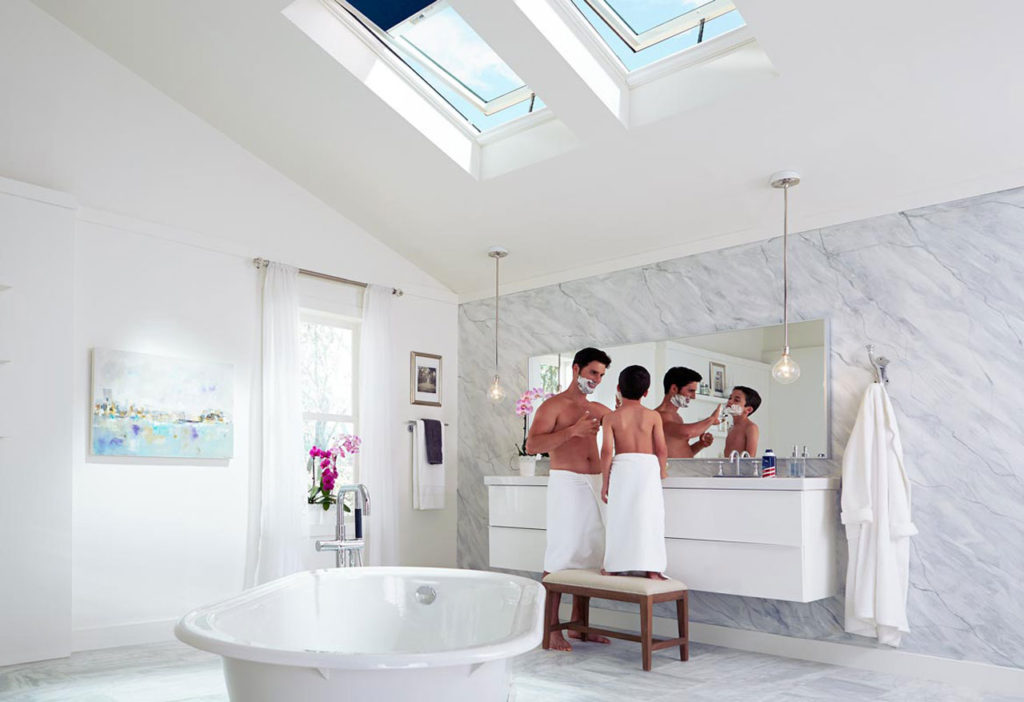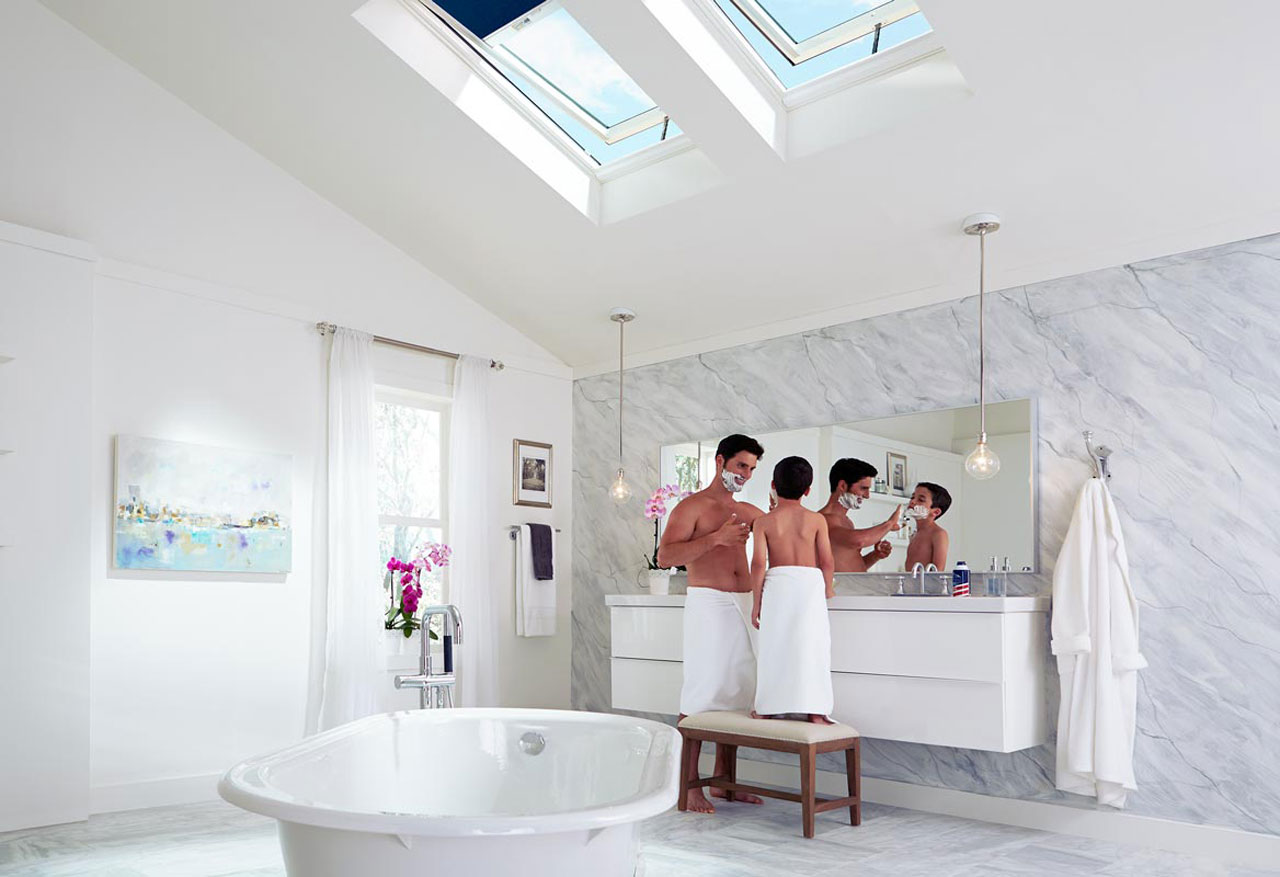 Exhausting stale indoor air and replacing it with fresh outside air is the best way to ensure continuous indoor air quality, the Home Ventilating Institute says. Modern construction, however, makes it virtually impossible to achieve sufficient exchange of air without mechanical assistance.
Fortunately, there are plenty of ways to ensure adequate air flow in the kitchen and bath without sacrificing a comfortable atmosphere or increasing your utility bills.
SKYLIGHTS OFFER MORE THAN NATURAL LIGHT
Thanks to resources like Energy.gov, you may already know that a properly installed, energy-efficient skylight can help you control heating, cooling and lighting costs. Skylights can also be an excellent source of passive ventilation by utilizing the stack effect.
Skylights can also be an excellent source of passive ventilation by utilizing the stack effect.
Solar-powered fresh air skylights with a no-leak warranty admit healthful natural light while providing fresh air via the stack effect.

The stack effect occurs when skylights are open in combination with vertical windows. As warm, moist air rises, it escapes through the skylights, while cool, clean air is drawn in through windows. Air movement refreshes your home without using electricity, and thus does not add to your utility bills.

Ross Vandermark of VELUX America, makers of Energy Star-qualified skylights.
The Stack Effect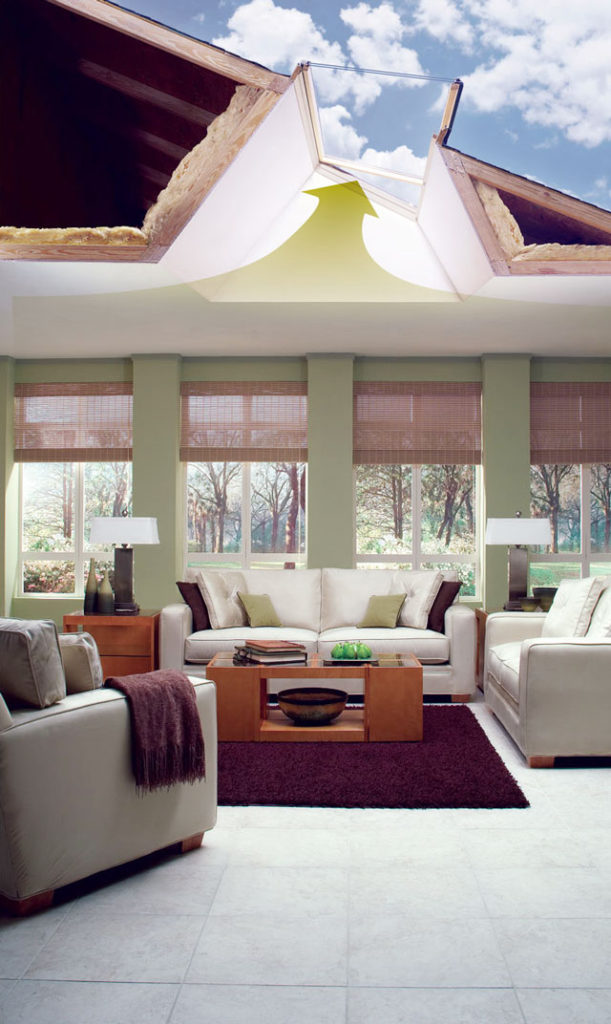 Because it utilizes the stack effect, skylights don't need to draw electricity to move air the way a venting fan does. What's more, skylights can be equipped with solar blinds for additional light control and improved energy efficiency. And when a homeowner chooses both a solar-powered fresh air skylight and solar-powered blind, both the products and the installation may be eligible for a 30 percent federal tax credit as a green home improvement.
Fresh air skylights in kitchens passively exhaust hot air, moisture and odors while admitting additional light for more pleasant cooking, dining and entertaining. And skylights, along with fashionable accessories including blinds, can be controlled manually or by remote control.
The same applies in baths, where humidity levels are often high and the need for fresh air is constant. And unlike vertical windows that often remain covered with blinds or curtains, skylights provide both privacy and a view in baths.
WIN WITH WINDOWS
Cold weather makes most of us close windows tight until temperatures warm. But as soon as the cold breaks, windows again become a great way to welcome fresh air into our homes, especially when installed in conjunction with skylights.
It's possible to maximize the benefit your home receives from opening the windows. Whenever possible, create a cross-breeze by opening windows on opposite sides of the room or opposite ends of the house. Having two open windows will help maximize air flow.

Or open a skylight and windows below to create the stack effect in which cool air is pulled in through windows and warm, moist air is exhausted through the skylights.
Avoid blocking windows with furniture or heavy drapes that can block the movement of air. Ensure windows always have screens and keep screens clean and free of debris. Screens should always have locks, especially on second and third-floor windows and in homes where small children and pets are present.
So, let your home breathe naturally with skylights and windows that work together.