Five year old skylights need to be replaced due to shoddy workmanship.
Five years after their home's original skylights were replaced because of hail damage, the owners noticed water damage on the ceiling and walls. Our inspection found numerous issues with the installation. Things like missing screws, screws installed sideways and flashing that looked like it had been formed with a ballpeen hammer!
The old come off.
Self flashed skylights are similar to a regular deck mounted skylight except that they include a factory installed flashing system to help reduce installation time.
The best solution is to completely replace the existing skylights with Velux fixed, curb mount units. The curb will help prevent leaks from melting snow on this relatively low sloped roof.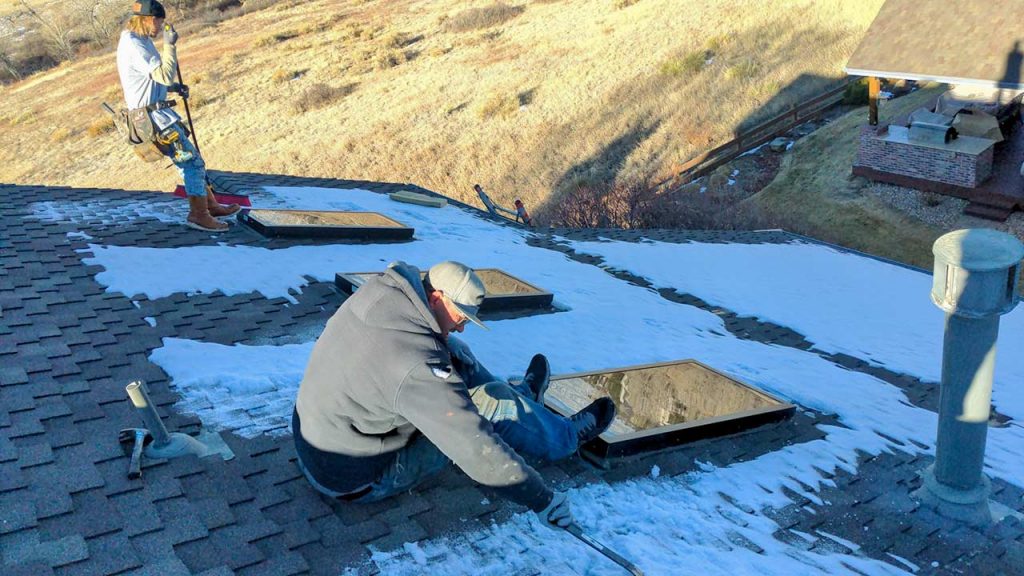 New curbs are built.
The curbs are constructed of 2×6 lumber lined with pre-finished white trim. Then ice and water shield and Velux engineered flashing are used to create a watertight base for the skylights.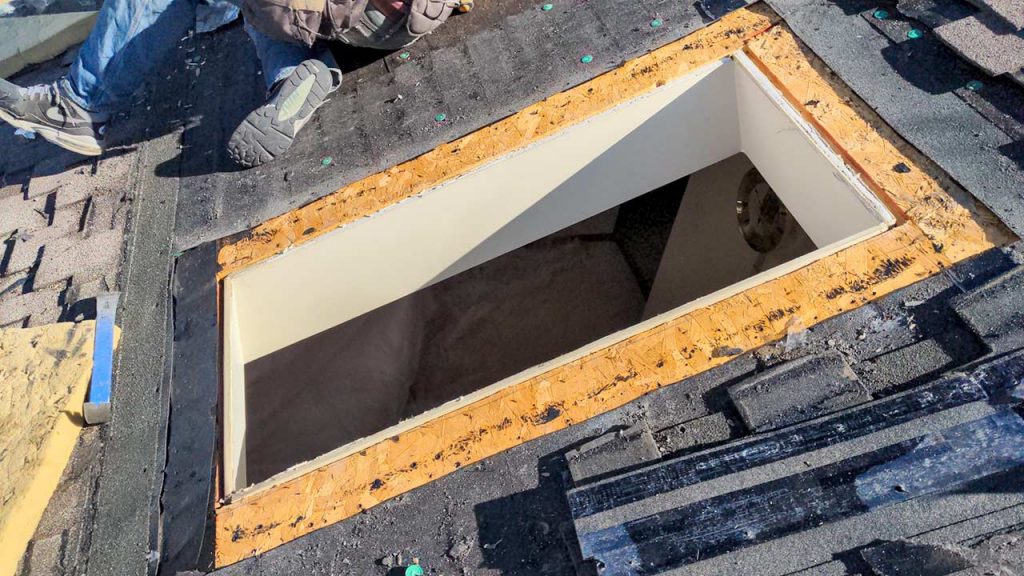 The Crew Was Awesome
If you have any needs regarding skylights, repair, installation or replacement Skylight Specialists should be the beginning and end of your search. Recently they replaced three skylights for us that another company had installed after the 2014 hail storm. Unbeknownst to us those skylights had been leaking into our walls these last five plus years. It wasn't until we noticed ceiling and drywall damage that we realized that there was a problem with the skylights. We have a pitched roof that is two and one half stories high and for safety reasons we have never been on top of it to see the outside of the old skylights.
When Daniel from Skylight Specialists showed us pictures of those skylights, even to our untrained eyes, we were shocked at the poor job that had been done. We have had three snow storms since Skylight Specialists replaced the old skylights and we have had no leaks and they look fantastic! The crew from Skylight Specialists was awesome. They were so careful and respectful of our home and their craftsmanship is exceptional. We are so grateful to Skylight Specialists for solving our water leak problem. From our first contact with them to the completion of our project they have exceeded our expectations.
March, 21, 2021
Mary MacIntyre
Highlands Ranch, CO
The finished installation.
The use of Velux ECL flashing means this entire installation is warranted to be leakproof for a period of ten years.