Get started with the Zelle® app.
Forget costly credit card charges and antiquated check-books!
Zelle® is a fast, safe and easy way to submit payments to those you trust – and it's free!
Get the App
Use the app store to download the Zelle® app on your phone.
Enroll
Enroll your mobile number and Visa® or Mastercard® debit card so you can start sending and receiving money.
How to Send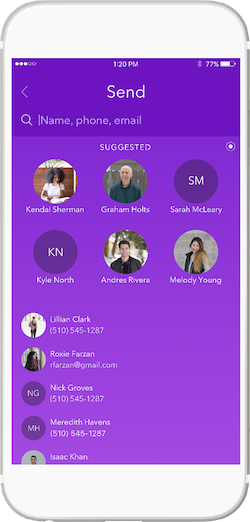 STEP 1
Find Skylight Specialists, Inc.!
You can locate our company by searching for our email address: skylights@skyspec.com
STEP 2
Enter the amount you want to send!
We'll send your invoice for payment once your project is complete. Simply enter the outstanding balance into the app.
After you hit "Review," you'll have a chance to confirm the amount you're sending and enter your ten (10) digit invoice number for reference.
Is There A Spend Limit?
If your bank or credit union offers Zelle®, please contact them directly to learn more about their sending limits through Zelle®.
If your bank or credit union does not yet offer Zelle®, your weekly send limit is $500. Please note that you cannot request to increase or decrease your send limit.
More questions? We encourage you to visit the Zelle® FAQ page on their website to learn more.
If your invoice is higher than the spend limits, we can also send you an invoice through Quickbooks just as easy! Just let us know what works best for you.