This project came by recommendation of our company to the homeowner by one of our roofing contractor partners, who was replacing a hail damaged roof on the customer's 80's era Evergreen home.
One of the many services we're able to provide homeowners & roofing companies alike is insurance claim support and that's one of the reasons our number was passed along.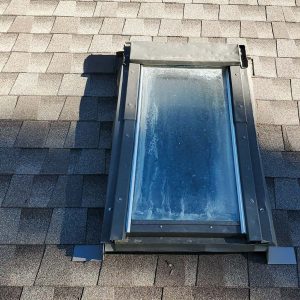 This project would require assistance in helping establish an appropriate and cost effective replacement solution to a hail damaged skylight on the roof.
The GGL roof window has been discontinued and is no longer offered by VELUX.
The particular skylight in question was a 20+ year old GGL roof window made by VELUX. This center-hinged skylight pivots open from the middle, allowing for useful ventilation when desired. Unfortunately, since its original installation, the GGL has been discontinued and is no longer offered by VELUX. This makes getting the right amount approved from insurance a little trickier.
That's where our expertise comes in.
We're able to identify the right skylight for replacement that functions a similar way and meets the insurance company's criteria and the homeowners need. We provided all the necessary documentation and justification the insurance company required, helping the project get the approval and funds it needed.
Upgrading to a solar-powered skylight qualifies the project for a 26% federal solar tax credit.
In this case and like many others in their shoes, the homeowner decided to take advantage of a federal solar tax credit that saves them 26% on their entire project cost. Simply by upgrading what used to be a manual opening skylight to a solar-powered skylight that opens with the touch of a button.
With the skylight in a bedroom, solar-powered blinds were added as a final touch and gave the ability to control the light. Which is a very handy tool to have, especially those mornings we want a little more sleep!