THE IMPACT IS STUNNING!
Open your world.
VELUX CABRIO® balcony opens in seconds to give your loft space a place in the sun. The innovative balcony adds air, light and a great view to your home.
For added convenience, the VELUX CABRIO® balcony fits flush with the roof when closed.
Getting a free, no obligation estimate will help you understand the value of skylights. We are not a hard sell company and we want you to be very comfortable with your decision to look into getting a skylight or replacing a problem skylight.
We are proud of our customer satisfaction record!
Much more than just a window.
VELUX CABRIO® balcony windows can dramatically change a room. They're the fastest way to add natural light, ventilation and the feeling of openness to your under roof spaces.
The impact in terms of daylight and fresh air, not to mention the view, is stunning.
Enjoy a balcony instantly.
VELUX CABRIO® goes from roof window to balcony in seconds.
Bring the outside in – Let in more natural daylight and fresh air.
Roof window or balcony – your choice – The top half opens like a traditional roof window.
Call us, we'll discuss options.
303-761-2200
VELUX GDL CABRIO® Balcony Roof Window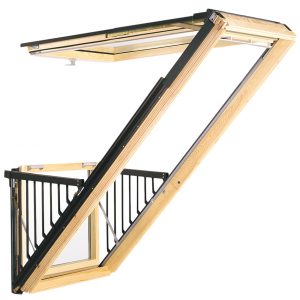 Required roof pitch of 35°- 53°
VELUX GGU Center-Pivot Roof Windows are available in 17 sizes. Our specialists will help you determine the exact size needed for your space.
| GDL Size Code | Rough opening* |
| --- | --- |
| PK19 | 39½ x 101 |
| MK19 | 33 x 101 |
*(W" x H") to the nearest 1⁄4″

Installation costs will vary according to the number of skylights, skylight size and your ceiling type. We do not have an average price for this model roof window.

Call us, we're here to help design your space!
303-761-2200