THE IMPACT IS STUNNING!
Much more than just a window.
VELUX CABRIO® balcony windows can dramatically change a room. They're the fastest way to add natural light, ventilation and the feeling of openness to your under roof spaces.
The impact in terms of daylight and fresh air, not to mention the view, is stunning.
Open your world.
VELUX CABRIO® balcony opens in seconds to give your loft space a place in the sun. The innovative balcony adds air, light and a great view to your home.
For added convenience, the VELUX CABRIO® balcony fits flush with the roof when closed.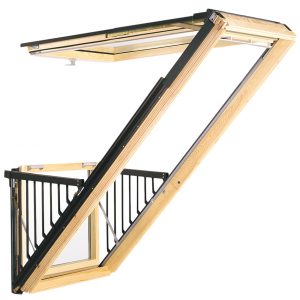 Enjoy a balcony instantly.
VELUX CABRIO® goes from roof window to balcony in seconds.
Bring the outside in – Let in more natural daylight and fresh air.
Roof window or balcony – your choice – The top half opens like a traditional roof window.